If you're thinking that THE ALLIES were a bunch of army guys fighting the axis of evil in the 1940s, you may just be too old to care. On the other hand, if you're between the ages of 25 and 125 and love rock and roll, you've probably heard music by the ALLIES at least once in your life (probably in the early 80's).
The biggest little band that almost never happened may be hard to remember almost three decades later, but for those of us who heard their music, it's impossible to forget. The band started in 1982 when Matt Preble met Bernard Duvau through a mutual friend. When they discovered a common interest in music, there was an instant bond. The question was, what to do with it? Two guys with a couple of guitars, no matter how talented, were a dime a dozen back in the early eighties.
One night at a local club, they heard Pam Neal, a vocalist performing with the house band and knew they would be one step closer to forming an extraordinary band if she agreed to be part of it. She did, and within weeks The ALLIES became a reality. Pam Neal performed lead vocals and played keyboards, Bernard Duvau played guitar, and Matt Preble shared lead vocals and played guitar and some keyboards. They were three talented musicians who complimented each other in every way.
Self-taught on both guitar and piano, MATT grew up in Hollywood and was the male counterpoint to Pam on lead vocals. Combined, they formed a unique singing style with many octave and unison vocal parts blended with lush harmonies. Matt's musical interests led him to a career in motion picture sound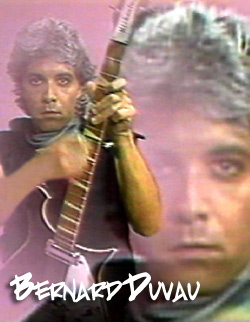 and today he is a managing partner of SMART POST SOUND, one of the industry's most successful post-production sound studios.
Music had always been a part of PAM's life. She studied piano from an early age and gained considerable notoriety in 1978 co-writing the Pete Rose inspired disco hit "Charlie Hustle". In addition, she was the musical director for the cuchi-cuchi latin star, Charo. As the ALLIES' female lead vocalist she also played the majority of the keyboard parts. After leaving the band Pam wrote several children's books and is now an elementary school teacher.
Bernard, an Australian native who grew up in Paris, France, played lead guitar and drew heavily from his classical guitar background to help the band create an impressive playlist of original songs. Today, Bernard is a noted painter with works displayed in galleries nationwide.
---

Together, Matt, Pam, and Bernard wrote all of their own music and lyrics for these memorable ALLIES songs including "Something Sweet," the title song for the 1984 cult classic "ANGEL" which was released by New World Pictures. Another song, "Come Inside," was featured in the independent film L.A. STREETFIGHTER (Originally titled NINJA TURF), which was released in 1985. With thousands of bands trying unsuccessfully to break into films each year, two film successes in two short years was the first chapter in the ALLIES success story. They were unique and damn were they good!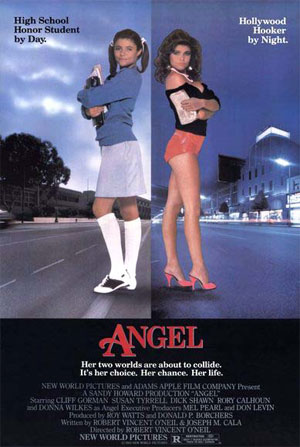 A handful of songs were recorded in studio (SOMETHING SWEET, NOBODY KNOWS, I COULD LOVE YOU, LOVE ME TOO, COME INSIDE, SHE'S SO CITY), however, most were incomplete and were actually finished in Matt's bedroom at home. Since the group was never in possession of the studio masters, the band would play and overdub the instruments in the bedroom and sing and add handclaps in the bathroom to achieve natural reverb.
For three unforgettable years, 1982 to 1984, THE ALLIES were featured throughout the club scene in Los Angeles and the Bay area. Today, those incredible performances are only memories, but to those who were lucky enough to have experienced first hand the music created by this talented threesome, the memory will never fade.
Now, for the first time, all existing ALLIES recordings have been assembled on this web page for your enjoyment. M
ost of the songs have not been heard since 1984. Each one existed only on audio cassette; more than 50 in all. Some of the cassettes were demos, unfinished music beds, and uncompleted songs that were scattered in a random fashion throughout all fifty cassettes. From this material the best songs have been loaded into ProTools, cleaned up using the latest sonic restoration software, re-mixed, and re-mastered.
---
A VERY special thanks goes out to Rick Steele, Dave Eichhorn, Roy Braverman and Larry Benjamin for helping to bring this music and website to life!